Precision Medicine is an emerging, evolving field whereby increasing amounts of different types of information are used to shape prevention, prediction, diagnosis and treatment at population, patient group and individual level. It is the way of the future.
In response to this, HISA has established a Precision Medicine Community of Practice to engage, inform and influence the HISA community and the broader health ecosystem on this important area. We want to ensure that the informatics community understands what Precision Medicine is, the initiatives internationally and here in Australia, ongoing developments in this field and the challenges it raises so that we can support its introduction into our health system. This will make us better positioned to ensure that data/information requirements and standards are understood and in place and technology solutions evolve to support the increasing use of Precision Medicine.
Care to join?
Are you involved in precision medicine? Do you have any suggestions, ideas or would like to get involved in this community of practice?
Siân Slade, VIC
Bio
Executive Consultant
Bristol-Myers Squibb
A dynamic innovator and problem solver, with a key focus on quality use of medicines and a passionate interest in data connectivity to enable and expedite more impactful outcomes for patients.
A pharmacist by background, Siân has an MBA from Imperial College (London) and is a Graduate of the Australian Institute of Company Directors. Siân has worked internationally with a variety of roles of increasing seniority at market, regional and global levels including roles in Europe, Asia Pacific, US and the Intercontinental region.
Siân's experience spans clinical development, medical affairs, sales, marketing and human resources and has included working in fast-moving therapeutic arenas of HIV, HCV and Oncology, leading Marketing Excellence for Europe Middle East & Africa as well as more recently leading global capabilities for knowledge management & content development within Bristol-Myers Squibb.
Peter Williams, CHIA, VIC
Bio
Healthcare Innovation Advisor
Oracle
Peter has over twenty five years experience in healthcare and has worked in senior executive positions in information management and technology in two state health departments and nationally. He is currently Oracle's Healthcare Industry Advisor for Australia and New Zealand helping healthcare organisations to undertake business transformation and digital evolution, and is responsible for developing health industry patterns that are used across Asia-Pacific and Europe. He is a member of several international working groups on health information technology standards and is the current Treasurer and past President of the Australasian College of Health Informatics.
Webinars
Available to HISA members only. To view the recording, you may need to provide your contact information.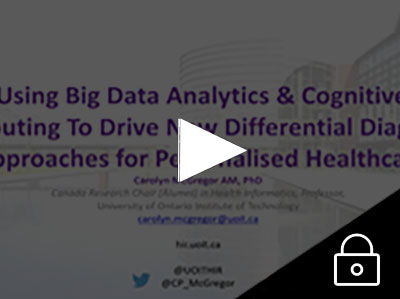 Prof Carolyn McGregor AM
20 June 2018
Peter Williams Healthcare Innovator Oracle APAC Precision Medicine Community of Practice Steering Committee Member The HISA Precision Medicine Community of Practice sees precision medicine as not constrained to developments associated with the advance of genomics, as important as they are, but rather considers a broader spectrum where the data driving individualised care can include clinical, [...]
read more